Interview with Patrizia Fabri – The art of saving art
Interview with Patrizia Fabri  – The art of saving art
As soon as you walk through the door of the workshop in Via degli Scipioni, you know you are entering history, art and tradition with its smells, noises, shapes and colours that are unique in their kind and suddenly take us back into the history of Made in Italy.
The History
The history of Rome's oldest hat workshop began in 1936 thanks to a family of hatters already operating in Tuscany, the Cirri family, and continued in 2003, thanks to the passion and tenacity of Patrizia Fabri, who took it over and renamed it Antica Manifattura Cappelli.
But for Patrizia the beginning of this passion goes back much further: when she was only 17 years old Patrizia entered the workshop to look for a hat for herself and met Mr Loris, a friendly gentleman with a pronounced Tuscan accent from the fourth generation of hat makers from Tuscany. Once home, she customised it and wore it to go to the beach the following Sunday.
And here's the idea! To try and sell some to see if her message got through and it was in a seaside boutique that she presented her first piece of work, which the owner liked very much and ordered 24 of all colours. From there Patrizia went back to Mr Loris to order 24 hats and Mr Loris said in his Tuscan accent 'oh, the girl is serious! It was a premonitory phrase! Patrizia then went on to study architecture and set up her own handbags, shoes and hats business, exhibiting in Paris, Milan and New York.
Then, when Mr. Loris fell ill in 2003, she realised that the value of this place, its tools and its history would be lost because no one in Rome had the ability and desire to keep such a business alive, except her, who decided to take over the workshop and the savoir-faire. At first she thought she would turn it into a museum when she was an old woman, but instead, and I would say fortunately, she decided to carry on the business as an heir of Mr Loris.
Even now Patrizia and Sandro, the savoir-faire, carry on what Sandro learned from Mr Loris when he was 17 years old during his years of apprenticeship as a shop assistant because, as Patrizia points out, the shop is an essential part of training, after all, Michelangelo, Raphael and Bramante also worked in the shop.
Despite the fact that the name Patrizia Fabri has become an international brand, producing models sold all over the world, collaborating with the biggest international designers and creating unique pieces for artistic performances, Patrizia has one great fear: being able to save this immense cultural heritage.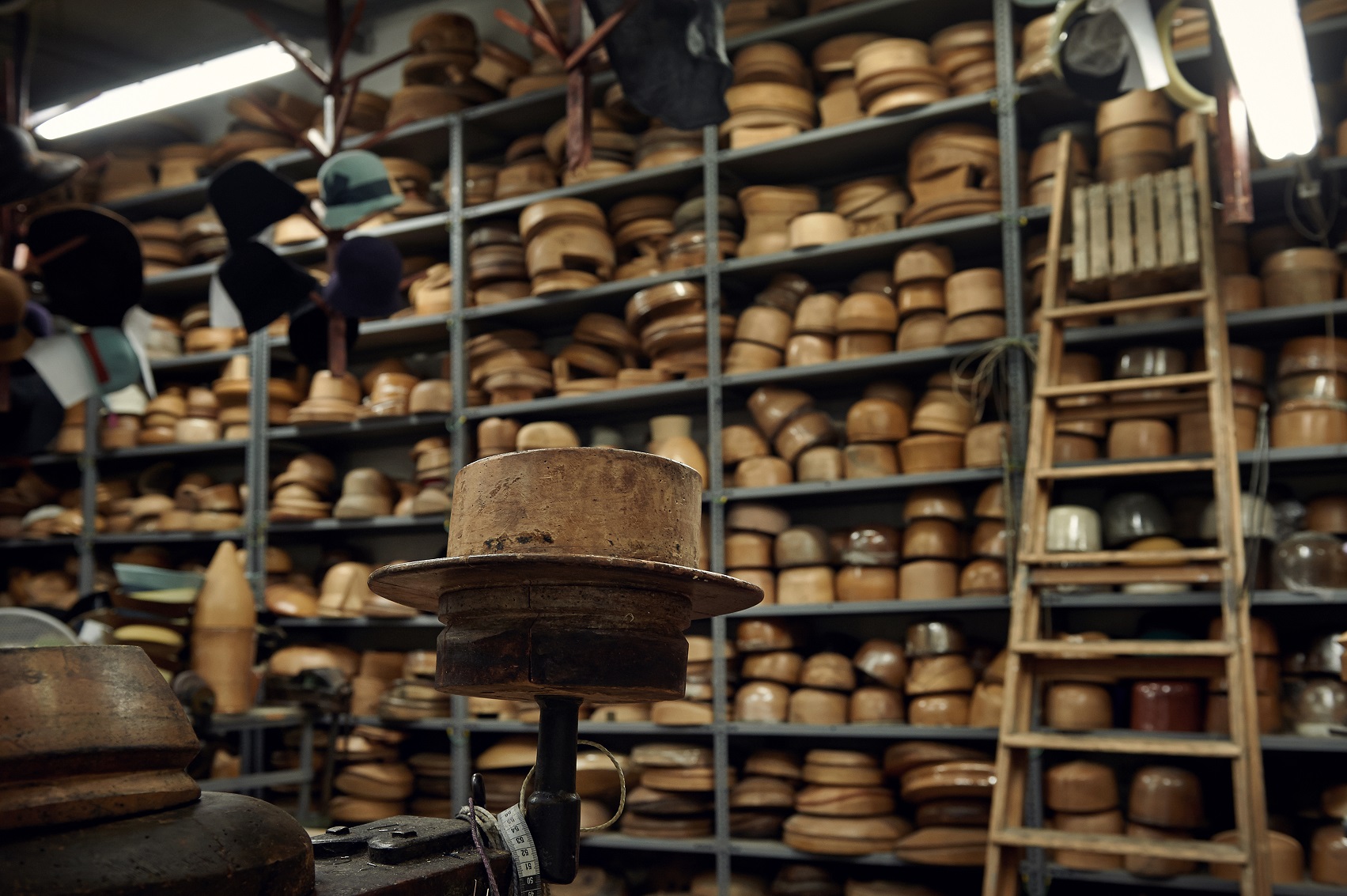 Made in Italy
Patrizia defines her activity as a form of exclusive, unique and therefore endangered Made in Italy craftsmanship. While other Tuscan hat-making families have not managed to survive industrialisation and globalisation, her workshop, thanks to the confidentiality and modesty of the Cirri family, has remained unchanged over time, following the ancient processes. She is an icon and for this reason she is on the verge of extinction: the cost of labour and taxes do not make Made in Italy products, for her this is a bet and it is already a miracle that they are still open.
Objectives
Your objective? Not to close!
His dream? To transform the workshop into a Civic Museum, where you can breathe in the scent and flavour of Made in Italy, which originated in the 18th century with the export of hats to the best European courts: the best ladies and princesses owned hats from Florence, and this is exactly what you can breathe in here. The aim is to transform the workshop into part of a widespread museum, making it a living museum and creating a museum in the motherland of hats in Tuscany with adequate space for exhibitions, libraries and archives. The hat is a very important element, it is the closure of an outfit and therefore, through the hat and its shapes, we can retrace a century of fashion through the geometric analysis of the hat itself.
The mad hatter
Before closing the interview, we asked Patrizia why she says "mad hatter"? No one knows that hats, especially felt hats, which we consider to be the king of hats, are made from rabbit hair; you need 7 to 11 rabbits to make a hat of average size and weight. This processing of the rabbit hair is called the filtering process, a very laborious and dangerous process for the health of the workers: one of the most salient and risky steps was when mercury was passed over the hair to remove the keratin so that the hair would be receptive to receiving the colour. This chemical was soaked into the magma of the felt and when the hatter received the felt to work the hat, he breathed in the fumes and … a hat today, a hat tomorrow … all the hatters were a bit mad!  The mad hatter from Alice in Wonderland was not invented by Lewis Carroll but it was a truth, so, to stay on the subject, hats off to Walt Disney who managed to make everything a wonder!
The boutique
Thanks to her passion, Patrizia has annexed to her workshop a small boutique a stone's throw from Piazza del Popolo, where she teaches the refined use of the hat through models for every day and every season of the year. This is where the desires of the most demanding brides and grooms are fulfilled, thanks to unique and special outfits, as well as satisfying requests for exclusive pieces for special occasions. Cloches, berets, columbas, 1930s bonnets, bowler hats and lobas are just some of the collections designed for women who are looking for a metropolitan allure, for the more casual man and for children who want to have fun dressing up.
2000 wooden shapes mean that Antica Manifattura Cappelli, between innovation and tradition, is still able to cover more than a century of hat design.
CONTACTS
Workshop and Shop
Scipioni street, 46 – 00192 – Rome (RM)
Ph. +39 06 39725679
Boutique
Dell'Oca street, 34 – 00186 Rome
Ph+39 06 3214652
Isabella Leone
25 May 2021